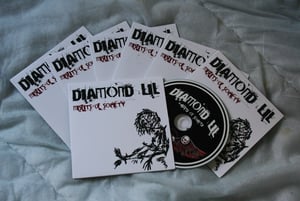 £

3.00
40% OFF SALE!!
Grab a copy of the 6 track Diamond Lil E.P, 'Misfits of Society'!
Just over 30 minutes of awesome heavy rock and metal tunes for the mere price of £5! That's less than £1 per song!
Contains something for every rock lover from pounding anthemic chorus's, a heartfelt, bluesy ballad and lyrically driven passion.
BUY NOW!
Track Listings:
1) Bottom Of A Glass
2) Sex Injuries
3) Misfits Of Society
4) Beautiful Nowhere
5) Reach
6) Barrymore (I Want More)